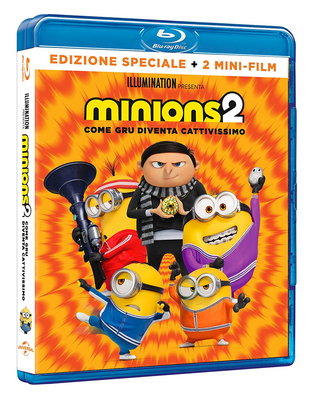 Titolo originale:
Minions: The Rise of Gru
Regia:
Kyle Balda, Brad Ableson, Jonathan del Val
Cast:
Max Giusti, Steve Carell, Pierre Coffin, James Murray (IV), Alan Arkin
Genere:
animazione, avventura, azione
Nazione:
USA
Anno:
2022
Durata:
90'

Nella Los Angeles degli anni Settanta, Gru cresce in perfidia e sogna di integrare i Vicious Six, un team di supercattivi che si è appena sbarazzato del suo leggendario capo. Dodicenne sotto il caschetto e dentro i jeans a zampa di elefante, partecipa senza successo al colloquio. Deriso per la 'taglia', troppo piccola per un'ambizione così grande, Gru si congeda rubando una potente pietra dello zodiaco e guadagnandosi sul campo il titolo di nemico giurato. Tra inseguimenti e rapimenti, Gru potrà contare su un esercito fedele di Minions e un complice inaspettato, Wild Knuckles, ex leader dei Vicious che reclama pietra e vendetta. C'era una volta Gru, adolescente dal naso grande e in divenire come la sua volontà di essere 'cattivissimo'.

Mostra/Nascondi Testo

Se ti piacciono i grandi classici aiutami a condividerli:
clicca sul banner e abbonati
Attenzione! Non sei autorizzato a visualizzare questo testo / Solo gli utenti registrati possono visualizzare questo testo!